RESULTS - Publications
Booklets - Papers, Proceedings, Posters - COST Related Papers, Proceedings, Posters
Booklets

A Practical Guide to Operating Broadband Instruments Measuring Erythemally Weighted Irradiance
Ann Webb, Julian Gröbner, Mario Blumthaler
(Produced by the joint efforts of WMO SAG UV and Working Group 4 of COST-726 Action "Long Term Changes and Climatology of UV Radiation over Europe")
Office for Official Publications of the European Communities, Luxembourg, 21pp., 2006, ISBN 92-898-0032-1
View/Download this Publication (pdf, 1.3MB)
Modelling solar UV radiation in the past: Comparison of algorithms and effects of the selected input data
Peter Koepke, Hugo De Backer, Alkiviadis Bais, Aleksander Curylo, Kalju Eerme, Uwe Feister, Bjorn Johnsen, Juergen Junk, Andreas Kazantzidis, Janusz Krzyscin, Anders Lindfors, Jan Asle Olseth, Peter den Outer, Anna Pribullova, Alois Schmalwieser, Harry Slaper, Henning Staiger, Jean Verdebout, Laurent Vuilleumier, Philipp Weihs

to be published with OPOCE during the next months
View/Download this Publication (pdf, 8.9MB)
Report of the PMOD/WRC-COST Calibration and Intercomparison of Erythemal radiometers Davos, Switzerland 28 July – 23 August 2006
J. Gröbner, G. Hülsen, L. Vuilleumier, M. Blumthaler, J. M. Vilaplana, D. Walker, and J. E. Gil

to be published with OPOCE during the next months
View/Download this Publication in full quality (pdf, 23 MB)
View/Download this Publication in reduzed size (pdf, 5 MB)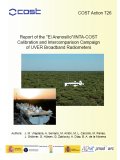 COST Action 726 - Report of the "El Arenosillo"/INTA-COST Calibration and Intercomparison Campaign of UVER Broadband Radiometers
J. M. Vilaplana, A. Serrano, M. Antón, M. L. Cancillo, M. Parias, J. Gröbner, G. Hülsen, G. Zablocky, A. Díaz, B. A. de la Moren
COST Office 2009, pp. 64, ISBN: 978-84-692-2640-7
View/Download this Publication in full quality (pdf, 4 MB)
Proceedings, Posters
Modelling solar UV radiation in the past: Comparison of algorithms and input data,
P. Koepke et al. (2006)
Presentation at SPIE 2006, Stockholm, Sweden.
Remote Sensing 2006, Volume CDS232, Vols. 6362, 6362- 42, ISBN: 9780819464637
Proceedings of SPIE Vol. 6362, 636215-1 - 636215-11.
View extented abstract


Comparison of algorithms and input data for modelling solar ultraviolet radiation in the past,
P. Koepke, A.W. Schmalwieser, H. De Backer, A. Bais, A. Curylo, K. Eerme, U. Feister, B. Johnsen, J. Junk, A. Kazantzidis, J. Krzyscin, A. Lindfors, J. A. Olseth, P. den Outer, A. Pribullova, H. Slaper, H. Staiger, J. Verdebout, L. Vuilleumier, P. Weihs (2007)
Poster Presentation at EGU 2007, Vienna, Austria
Geophysical Research Abstracts, Vol. 9, 08259, 2007, SRef-ID: 1607-7962/gra/EGU2007-A-08259.
View/Download the Abstract (pdf, 32kB)
View/Download the Poster (pdf, 164kB)


COST 726: Long term changes and climatology of UV radiation over Europe,
Litynska Z., De Backer H., Koepke P., Schmalwieser A.W., Gröbner J. (2007)
Poster Presentation at EGU 2007, Vienna, Austria
Geophysical Research Abstracts, Vol. 9, 08151, SRef-ID: 1607-7962/gra/EGU2007-A-08151
View/Download the Abstract (pdf, 32kB)
View/Download the Poster (pdf, 98kB)


"UV exposure in Europe during the past"
P. Koepke, et. al,
in Proceedings of the 17th International Congress of Biometeorology
ICB 2005 Annalen der Meteorologie, 41, 2, 659-662.

COST 726: Long term changes and climatology of UV radiation over Europe
Alois W. Schmalwieser
ESP 2007 - 12th Conference European Society of Photobiology Bath England 1st-6th September
Programme and Book of Abstracts, p. 95-96

Jan Asle Olseth, Iselin Medhaug, Joachim Reuder, Brynhild Berge Sjølingstad, Ottar Sætre
UV-radiation in Norway: Measurements, Reconstructions and Applications
One century of UV Radiation Research, Davos, Switzerland, 18 - 20 Sept. 2007
Abstract
Full Presentation

I. Medhaug, J. A. Olseth and J. Reuder (2008)
Reconstruction of UV-radiation in Norway
EGU General Assembly 2008
Geophysical Research Abstracts, Vol. 10, EGU2008-A-03107, 2008
Abstract
Poster

J.A. Olseth, I. Medhaug, J. Reuder, B.B. Sjølingstad and O. Sætre
Measured and modelled UV radiation in Norway
The 26th Nordic Meteorologists' Meeting, Reykjavik, Iceland, 02 - 06 June 2008
Abstract
Presentation
Poster

COST 726 Related Articles (2004-)
2005
Lindfors A., L. Vuilleumier (2005)
Erythemal UV at Davos (Switzerland), 1926-2003, estimated using total ozone, sunshine duration, and snow depth
Journal of Geophysical Research, Vol. 110 (D2), D02104, doi:10.1029/2004JD005231.

M. Glandorf, A. Arola, A. Bais, and G. Seckmeyer (2005)
Possibilities to detect trends in spectral UV irradiance
Theor. Appl. Climatol. 81, 33–44, DOI 10.1007/s00704-004-0109-9.

P. N. den Outer, H. Slaper, and R. B. Tax (2005)
UV radiation in the Netherlands: Assessing long-term variability and trends in relation to ozone and clouds
JOURNAL OF GEOPHYSICAL RESEARCH, VOL. 110, D02203, doi:10.1029/2004JD004824

2006
Krzyscin J. W. (2006)
Change in ozone depletion rates beginning in the mid 1990s: trend analyses of the TOMS/SBUV merged total ozone data, 1978–2003
Ann. Geophys. 24, 493–502.

Gröbner, J., M. Blumthaler, S. Kazadzis, A. Bais, A. Webb, J. Schreder, G. Seckmeyer, and D. Rembges (2006),
Quality Assurance of spectral solar UV measurements: results from 25 UV monitoring sites in Europe, 2002 to 2004
Metrologia 43, 66-71. doi: 10.1088/0026-1394/43/2/S14.
2007
Kazadzis S., A. Bais, V. Amiridis, D. Balis, C. Meleti, N. Kouremeti, C. S. Zerefos, S. Rapsomanikis, M. Petrakakis, A. Kelesis, P. Tzoumaka, and K. Kelektsoglou (2007),
Nine years of UV aerosol optical depth measurements at Thessaloniki, Greece
Atmos. Chem. Phys. 7, 2091–2101.

Junk J., Feister U., Helbig A. (2007)
Reconstruction of daily solar UV irradiation from 1893 to 2002 in Potsdam, Germany
Int. J. Biometeorol. 51, 505-512.
DOI 10.1007(s00484-007-0089-4

Staiger H., den Outer P.N.(2007)
Hourly Resolved Cloud Modification Factors in the Ultraviolet.
Proceedings of the UV Conference "One Century of UV Radiation Research", 18-20 September 2007, Davos, Switzerland, pp. 203-204, 2007.

Lindfors, A., J. Kaurola, A. Arola, T. Koskela, K. Lakkala, W. Josefsson, J. A. Olseth, and B. Johnsen (2007),
A method for reconstruction of past UV radiation based on radiative transfer
modeling: Applied to four stations in northern Europe, J. Geophys. Res.,112, D23201, doi:10.1029/2007JD008454.

Hülsen, G. and Gröbner, J. (2007)
Characterization and calibration of ultraviolet broadband radiometers measuring erythemally weighted irradiance
Appl. Optics 46, 5877-5886.

Schmalwieser A.W., Schauberger G., Erbertseder Th., Janouch M., Coetzee G.J.R. and Weihs Ph. (2007)
Sensitivity of Erythemally Effective UV Irradiance and Daily Exposure to Uncertainties in Measured Total Ozone
Photochemistry and Photobiology 83, 433–443.

2008
Alois W. Schmalwieser, Thilo Erbertseder, Günther Schauberger and Philipp Weihs (2008)
Sensitivity of UV Erythemally Effective Irradiance and Daily Dose to Spatial Variability in Total Ozone Photochemistry and Photobiology 84(5), 1149-1163

Lindfors Anders and Antti Arola (2008)
On the wavelength-dependent attenuation of UV radiation by clouds
GEOPHYSICAL RESEARCH LETTERS, in press

Bjørn Johnsen, Berit Kjeldstad, Tommy Nakken Aalerud, Lill Tove Nilsen,Josef Schreder, Mario Blumthaler, Germar Bernhard, Chrysanthi Topaloglou,Outi Meinander, Asadollah Bagheri, James R. Slusser, and John Davis (200x)
Intercomparison and harmonization of UV Index measurements from multiband filter radiometers
J. Geophys. Res. 113, D15206, doi:10.1029/2007JD009731.

U. Feister, J. Junk, M. Woldt, A. Bais, A. Helbig, M. Janouch, W. Josefsson, A. Kazantzidis, A. Lindfors, P. N. den Outer, and H. Slaper (2008)
Long-term solar UV radiation reconstructed by ANN modelling with emphasis on spatial characteristics of input data.
Atmos. Chem. Phys. 8, 3107–3118.

Hess M. and P. Koepke (2008),
Modelling UV irradiances on arbitrarily oriented surfaces: effects of sky obstructions
Atmos. Chem. Phys. 8, 3583-3591.

Köpke P. (2008)
Solare UV-Dosis und ihre Abhängigkeit von atmosphärischen Bedingungen und menschlichem Verhalten
In: M. Kappas (Hrsg.) Klimawandel und Hautkrebs, ibidem-Verlag, Stuttgart, 97 - 117.
Krzyscin J. W. (2008)
Statistical reconstruction of daily total ozone over Europe 1950 to 2004
J. Geophys. Res., 113, D07112, doi:10.1029/2007JD008881.

Krzyscin J. W. and J. L. Borkowski (2008)
Variability of the total ozone trend over Europe for the period 1950–2004 derived from reconstructed data
Atmos. Chem. Phys., 8, 2847–2857.
Staiger H., P. den Outer, A. Bais, U. Feister U, B. Johnsen and L. Vuilleumier (2008)
Hourly resolved cloud modification factors in the ultraviolet
Atmos. Chem. Phys., 8, 2493–2508.
2009
Alois W. Schmalwieser, Thilo Erbertseder, Günther Schauberger and Philipp Weihs (2009)
Sensitivity of UV Erythemally Effective Irradiance and Daily Dose to Temporal Variability in Total Ozone Photochemistry and Photobiology 85, 261–271

I. Medhaug, J.A. Olseth and J. Reuder (2009)
UV radiation and skin cancer in Norway
Journal of Photochemistry and Photobiology. B: Biology, Volume 96, 232-241
doi: 10.1016/j.jphotobiol.2009.06.011

N.Y. Chubarova et al. (2009)
Seasonal distribution of aerosol properties over Europe and their impact on UV irradiance
Atmos. Meas. Tech., 2, 593–608
Download the paper
---
Last Update: May 2009,
by A.W.Schmalwieser